About Ice House Rental
Minnesota Fishing Guide Service and Captain Josh Hagemeister have been providing anglers of all ages and skill levels with successful fishing adventures for 28 years. Serving all of Minnesotas' popular fishing and vacation areas, Minnesota Fishing Guide Service is one of the hardest working guide services around. By being on the ice fishing every day, we are able to move the fish houses where the fishing action is to help ensure you have an enjoyable fishing trip. All of the fish houses are on wheels and can be moved quickly and efficiently. Walleyes, Perch, Crappies, Bluegills and northern pike are the most sought after fish. However catfish and bass can be targeted as well. You can choose between day houses, sleeper houses, personalized fully guided trips, or even using your own house by have us find a spot for you. Call or email today to customize your ice fishing adventure.
Captain Josh has been a professional fishing guide for 28 years. With around 5,000 trips to date he will find the fish and put your fish house on the hot spot. With a career that includes seminar speaking, publishing, tv shows, radio, working for In-Fisherman's Camp Fish, product promotions, and good old fashioned fishing experience, Captain Josh will help your ice fishing trip be enjoyable.
Fully Guided Trips
The complete ice fishing experience! To reach Minnesota Fishing Guide Service by phone please call (320) 291-0708 or (218) 732-9919.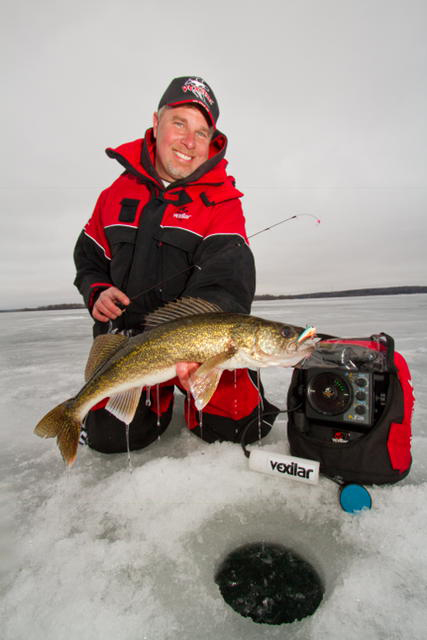 Day House Rental
Starting at $200
Day house rentals can accommodate up to 5 anglers per house. Weekday rates are $200 while weekend rates are $225 per day for the house. Day house rentals include the use of the heated fish house for the day, holes drilled/cleaned, rattle reels, tip-ups, hot coffee, and live bait. Rods/reels, tackle, and electronics (Vexilars) are also available if needed.

Book Now
Deluxe Sleeper
Starting at $300
Deluxe sleeper houses can sleep up to 5 anglers. Weekday rates are $300 while weekend rates are $325 per day. Sleeper house rentals include forced air heat, rattle reels, tip-ups, full cook top/oven, holes drilled/cleaned, and live bait. Rods/reels, tackle, and electronics (Vexilars) are also available.

Book Now
"Spot Finder" Services
Starting at $200
House Placement services. Own your own ice house? We will find a fishing spot for you, tell you how we caught them, tell you where the spot is and you bring your own house and fish! Fees average $200 depending on location.

Book Now
Pick a lake and go! Mobile fishing and learning how to be a better ice angler at its finest. $595* per full day for up to 4 people (additional people extra). The fully guided fishing trips are similar to an open water trip in a boat! Fish with the guide (Capt. Josh) for a full day (using what the ice allows portables/wheelers, wheel houses/ trucks) and learn the tips and tricks it takes to be a successful ice angler. Search the lake, drill holes, fish and do it again until the active fish are found. It is a great way to learn how to find the fish through the ice! The trips also include hot coffee and donuts (if I don't eat them first), an on ice lunch, plenty of fishing tips, use of all tackle and electronics and bait. Visa/Mastercard excepted.

Book Now
---